Alan Rance Surveyors draw from over 30 years' experience in providing EPCs and Commercial EPCs in Dunstable and the surrounding areas to offer expert advice to all clients. An Energy Performance Certificate is a document that provides an energy rating for a building or property, based on its current output and its performance potential. It is a European Directive and is a legal requirement for marketing a property. It has also been widely considered an important tool in the fight against climate change.
The rating itself is given on a scale of A-G, A being the most energy efficient, G being the least. This is to tell any potential buyers how energy efficient the property is by collecting data which includes the age of the property and any extensions, construction, insulation and relevant fittings. An EPC will also give recommendations on ways to improve the energy efficiency, save money and thus help the environment.
When is an EPC Required?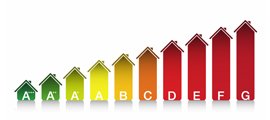 An Energy Performance Certificate is required by law whenever you are planning on buying, selling or renting out a property. You are also required to provide an up to date EPC upon request when selling or renting out a property. Failure to do so can result in a hefty fine. Energy Performance Certificates provided by Alan Rance Surveyors offer clients a wealth of information concerning the efficiency of the property in question, ensuring that they can make an informed decision on a property purchase where needed.
Our licensed Surveyor will assess your property using RdSAP methodology; the Government approved standardised system for energy surveys on existing dwellings. The survey is non-invasive and can take between 0.75- 1.5 hours. They will explain the procedure and answer any queries you might have. We also provide Energy Performance Certificates for those not selling at the moment. This is ideal for those looking to request a detailed energy assessment with the purpose of reducing their energy costs.
Alan Rance Surveyors
Alan Rance Surveyors are a team of professional surveyors offering Home Condition Surveys, EPCs and Commercial EPCs across Bedfordshire and Buckinghamshire. With over 30 years' experience in detailed reports and surveys, our service covers Milton Keynes, Bletchley, Aylesbury, Hemel Hempstead, Luton, Harpenden, Leighton Buzzard, Dunstable, St Albans, Tring, Toddington and the surrounding area.
Get In Touch
We offer all clients a no obligation quotation, simply contact us for more information about the services we provide. Call us on our landline at 01525 220786 or on our mobile at 07962 457456.
Alternatively, you can complete the form on the right and we will get back to you. As professional surveyors drawing from a wealth of local experience, you can rest assured in the knowledge and abilities of our expert team.