With more than three decades' worth of surveying experience throughout Hertfordshire, Alan Rance helps clients make informed choices about St Albans-based properties. We have worked with residential, commercial and industrial buildings across the area, and promise to deliver clear and impartial advice in the form of Building Surveys, Home Condition Surveys and EPCs.
PROPERTY IN ST ALBANS
Thanks to the rich history and beautiful architecture of St Albans, homes around the area are in high demand. The city's excellent transport links are also a big selling point; London is 20 minutes away by train, and the city is bordered by the M25, M1 and A1(M) motorways. Property prices have also risen by 0.45% on average over the past year, and the average property price currently stands at £585,315.
---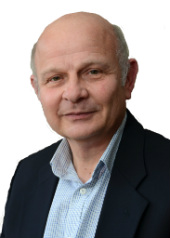 FROM ALAN
"I am a local surveying expert, with a deep understanding of the current market for residential and commercial property in St Albans. I strive to always to help customers make the best decision for their family and deliver the best possible value by providing quality advice at highly competitive prices.
For a concise, detailed report about any property in St Albans, Berkhamstead, or any of the surrounding area, contact me today on 01525 220786."
---
A professional survey roots out any underlying property issues, enabling you to make an informed choice when negotiating with the seller. This, in turn, could potentially save you thousands of pounds in repair work down the line.
Surveys are required for all types of properties, including new-build homes, listed buildings and commercial premises. Since damp, subsidence and hidden construction issues aren't always apparent, an expert assessment can substantially help.
WHAT IS A CONDITION SURVEY?
Our Home Condition Report involves a detailed inspection of the property's visible and accessible features. We highlight all defects and concerns, providing expert advice on how to address them. The purpose of the survey is to provide buyers with more detail about the property, so they can then make an informed decision – whether that be renegotiating the asking price, asking the seller to complete any urgent work, or simply walking away from the deal.
All our Home Condition Reports are performed by SAVA-certified surveyors and are regularly audited to ensure the highest level of quality service. We are committed to providing our customers with cost-effective surveys, using our extensive experience and knowledge of the local area to deliver a top-quality service.
WHICH FEATURES ARE INCLUDED IN THE SURVEY?
Our Home Condition Surveys routinely include, but are not limited to:
| | | |
| --- | --- | --- |
| ✓ Chimney Stack | ✓ Drains and Pipes | ✓ Roof and Coverings |
| ✓ External Walls | ✓ Windows and Doors | ✓ Fascia Bargeboards |
| ✓ Patios and Ponds | ✓ Fences and Garden Walls | ✓ Floor and Skirting |
| ✓ Walls & Plaster | ✓ Bathroom and Kitchen | ✓ Cupboards and Shelving |
| ✓ Dampness | ✓ Electrics, Gas & Oil | ✓ Electric Heating |
Case Study - Semi Detached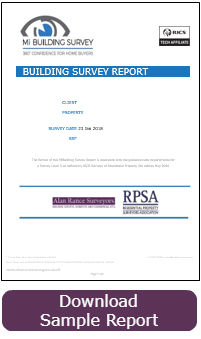 We recently carried out a Building Survey on a semi-detached, four-bedroom property in St. Albans. Our investigation included an overview of the building's construction and its connected utility services, as well as a brief background check.
The main issues we identified at this address were cracks in the external render of the kitchen and fourth bedroom, and the presence of damp. To help the potential buyer, we highlighted these concerns in the summary of major issues section on the fourteenth page of the report, covering them in more detail in section 4.4 and 5.3. We included a thorough explanation of the faults identified and the actions required to rectify them.
This report also contained a breakdown of the property's Energy Performance Certificate (EPC) and information regarding the electrical supply and circuits in the building. Overall, we found the property to be in good condition, but there were additional areas identified where improvements could be made. To see a full copy of this Building Survey for yourself, take a look at the image below.
Case Study - End-of-terrace house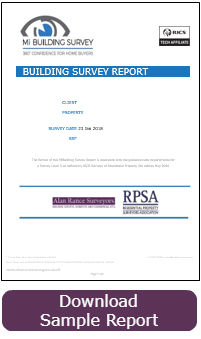 We recently conducted a Building Survey at an end-of-terrace house in St Albans. The property was built in the 1900s and featured single-glaze sash windows and suspended timber flooring. The loft had been converted into a functional room in 2009 and a kitchen extension was added five years later in 2014.
As you will be able to see from the comprehensive report below, several concerns were highlighted regarding the property's external features. The majority of these were typical of the building's age and construction, easily rectified with some straightforward remedial work. However, several of the issues identified left the property vulnerable to issues arising down the line, and urgent repair was needed on the roof. Having these issues identified in a pre-purchase survey enabled the buyer to renegotiate the sale price with the vendor.
The full report provided the potential buyer with details about every aspect of the property. This included how it was investigated, the current condition it is in, and the actions required to make it safe. This not only allowed the buyers to make a well-informed decision about whether to proceed with the sale or not, but it also provided them with professional guidance regarding the work required when they move in.
Some of the Properties we have Surveyed
CONTACT US TODAY FOR A COMPETITIVE QUOTE
We offer our professional services throughout St Albans and its surrounding areas. Whatever the type of survey you require for your new home or buy-to-let property – whether it be an Energy Performance Certificate or building survey – Alan Rance Surveyors can provide expert advice at a competitive price.
Please feel free to give our office a call on 01525 220786 or email us at alanrancesurveyor@gmail.com. Alternatively, complete the form on the right and we will aim to get back to you as soon as possible.