A property purchase is one of the most significant investment decisions you can make. With such a large financial commitment at stake, it's important to stay well informed throughout the decision-making process. A Building Survey will help you achieve this by providing you with a detailed report about the structural condition of the flat or house you are about to buy. Having all the necessary facts at your disposal enables you to make the right choice when it comes to the purchase decision.

WHY SHOULD I GET A BUILDING SURVEY?
The UK housing market operates under caveat emptor, or "buyer beware", meaning that property sellers are not obliged to disclose any information about defects or ongoing problems with the building or land. Instead, it is up to the buyer to uncover these issues before signing their contract, or else take full responsibility for attending to urgent faults upon taking ownership.
It's a common misconception that a mortgage valuation will report on any defects in the property you are about to buy. To fully understand the condition of any building, it is essential to commission a survey, carried out by a qualified professional. Armed with the results of their investigation, you can make an informed decision about whether you are happy to proceed with the purchase or would prefer to re-negotiate with the seller.
WHAT DOES A BUILDING SURVEY COVER?
Our Building Surveys are detailed inspections, and will report not only on any defects we find, but make suggestions and advice about how to make repairs, when they should be carried out and how much we estimate they will cost. A Building Survey typically investigates;
• The presence of damp and other ventilation issues
• Structural movement including subsidence and settlement
• Inspection of the internal and external roof structure including chimneys
• The condition of walls, windows and doors (internal and external)
• Damage to timber, including insect infestations and decay
• Checking the services and utilities, including sewage, drainage, heating, electrics, gas, oil and the boiler
• Alterations, conversions and extensions
• Health and Safety concerns, such as asbestos or lead
• Grounds, outbuildings and boundary lines
• Listed Building Consent, Planning Permission and Building Regulation issues
• Council information and energy efficiency advice
Some buyers believe that with newer properties there is no need to have a survey carried out. It's important to remember that housebuilders are only human and mistakes can be made. A more recent build does not give any guarantees of quality, so it can still be extremely important to have one of our Modern Home Surveys conducted.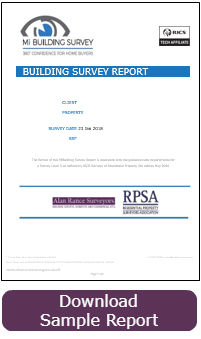 As an example of the reports we produce at Alan Rance Surveyors, you can read a copy of a report provided to a client following a Building Survey in St Albans. The property we attended was a semi-detached, 4-bedroom house, built in the 1900s. As you will see, the report includes a summary of the building's construction and utility services, as well as information from a background check into planning permission which may have been obtained by previous owners (in this case no major alterations or intentions of future development were apparent).
Our survey uncovered a few pressing issues which were brought to the attention of the purchaser. This included substantial cracks in the external render of the kitchen and fourth bedroom and evidence of damp. All areas of concern are listed on page 14 of the report, with a detailed analysis of each fault given under the relevant section later in the document, accompanied by recommended remedial measures.
The comprehensive, 91-page report also provided the client with a breakdown of the EPC (Energy Performance Certificate) associated with the property. This is used to outline the energy-saving measures that are currently installed within the property and how they may be improved upon for a more efficient home.
Why choose Alan Rance Surveyors?
Alan Rance is an experienced property surveyor, dedicated to providing clients with high-quality and easy-to-follow impartial reports. He has extensive experience with all types of homes in Hertfordshire, Buckinghamshire and Bedfordshire, including properties in St Albans, Tring, Dunstable and Leighton Buzzard.
With over 30 years of local experience under his belt, Alan Rance is perfectly positioned to investigate and understand common problems with the geography, land quality and construction methods used in the area. Alan has a specialist interest in thatched roof construction and clay lump buildings, and also provides home condition surveys and energy performance certificates at highly competitive rates.


For professional advice on the right survey for your property along with a no-obligation quote for any of our services, contact our office on 01525 220786. You can also submit an enquiry on the Contact Us page with details about the property in question.