Alan Rance Surveyors are a partnership of surveyors in St Albans. Our professional team are among the most experienced surveyors St Albans has to offer. Drawing from extensive local knowledge of all types of property in St Albans, we are able to provide clients with advice and assistance on making an informed decision on any property purchase. We work closely with our clients to ensure they have all the relevant information they need when they are thinking of purchasing a property located in St Albans and surrounding towns including Harpenden and Berkhamstead.
With our extensive local area knowledge and experience in a wide variety of property types, we are experts in providing concise, detailed reports that serve our client's best interests. Our superb range of services ensure complete client satisfaction in every survey we undertake.

What is detailed in a Condition Report?
Our Home Condition Report consists of a detailed analysis of the condition of a property in jargon-free language. This report looks at all visible and accessible areas, and lists any major or immediate defects found. From mould and damp spots to potential weaknesses in the structure and any issues that need to be resolved immediately, our detailed report will provide advice on what can be done to repair these issues. We want our clients to be able to make an informed decision on their property purchase, whether it is to negotiate on work that needs to be carried out, negotiate the selling price or take their business elsewhere.
What is surveyed?
In our extensive home condition surveys we report on the condition of a property including, but not limited to:
| | | |
| --- | --- | --- |
| ✓ Chimney Stack | ✓ Drains and Pipes | ✓ Roof and Coverings |
| ✓ External Walls | ✓ Windows and Doors | ✓ Fascia Bargeboards |
| ✓ Patios and Ponds | ✓ Fences and Garden Walls | ✓ Floor and Skirting |
| ✓ Walls & Plaster | ✓ Bathroom and Kitchen | ✓ Cupboards and Shelving |
| ✓ Dampness | ✓ Electrics, Gas & Oil | ✓ Electric Heating |
Some of the Properties we have Surveyed
The Importance of a Survey
When purchasing a property, a Mortgage Valuation will not go into any detail as to the condition of the property. To get detailed information about the condition of the property you intend to purchase, it is imperative that you request a more detailed survey such as a Home Condition Report. One of our professional surveyors can conduct a Home Condition Report, and this will provide you with all the relevant information you need to make an informed decision on your St Albans property.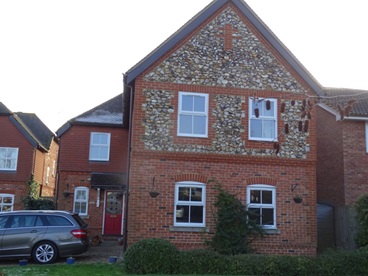 A constructive analysis of the property may potentially save you thousands of pounds of repair works. Our Home Condition Report will highlight any major or immediate issues found within the property. Advice may be given within the Home Condition Report as to what can be done to make the necessary repairs in the event of a sale. Something as innocuous as a small spot of damp can cost hundreds of pounds to fix, so it is vitally important you have this information before you commit to buy.
Our Promise
Alan Rance Surveyors was established by Alan Rance in order to provide first class, comprehensive reports designed to give property buyers all the relevant information they need when purchasing a St Albans property. Our experienced surveyors have an open, honest passion for surveying, and we are proud to be able to ensure client satisfaction in everything we do. We have over 25 years' experience in offering property surveys, including domestic and commercial EPC's (Energy Performance Certificates).
We understand the importance of a detailed survey for our clients looking to purchase a property. We know how its results may affect the purchasing decisions you make. That's why we pride ourselves on the level of detail and reporting we cover when it comes to our property surveys and home condition reports.
Contact Us
We offer surveying services to clients throughout St Albans and the surrounding area. Whether you're looking for the appropriate survey for a potential property purchase, you're considering a buy-to-let investment or you need a new EPC, our professional team at Alan Rance Surveyors can help.
For the best building surveyors St Albans has to offer get in touch with us today by emailing alan@building-surveyors.co or fill out the form below (or on the sidebar to the right) and we will get back to you as soon as possible. If you prefer to talk directly with a member of our expert team, please call us on 01525 220786. We will happily answer any questions you might have. We look forward to speaking with you soon.