Buying a House? Look beyond the decorations!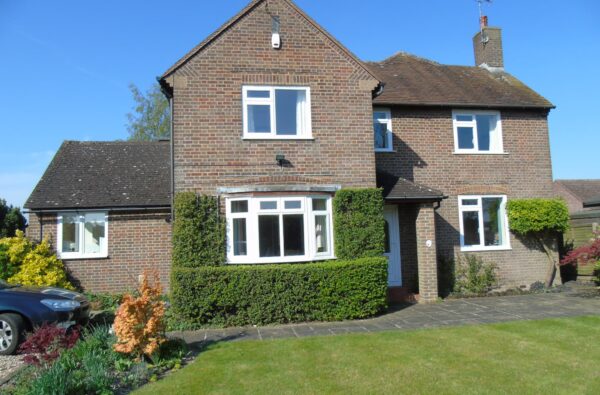 No matter what the condition or quality of the decorations and other finishes, most people will usually re-decorate to their own taste anyway. It is important that your mind is focused on looking beyond this, which will allow you to focus on the condition and layout of the building.
Throughout my career as a Building Surveyor I have been lucky enough to have undertaken many different types of surveys of all types of buildings both large and small and in varying degrees of condition. This experience has given me the ability to identify 'possible issues' in a building without undertaking an intrusive inspection. In simple terms if you know where to look and what to look for, you can quickly establish issues that may need much closer attention.
Whilst house hunting and viewing properties for the first time you may be surprised to learn that even as a Building Surveyor I am in the same boat as everyone else. Most properties that and I recently viewed for my daughters were both occupied and furnished and for a first viewing most sellers would expect a quick tour of the building followed by few questions. I think they would be a little shocked if I walked in with my surveying equipment and then started to systematically take their house to pieces so that I could decide if it was worth returning for a second visit! Something tells me that even if I wanted a second viewing the seller is unlikely to want me back! Even though my natural instinct is to be more intrusive I have to extend the same courtesy as anyone else.
When undertaking the viewing (notice the term 'viewing' and not 'inspection') there are some key things that I look for which will give me a good idea of the general condition of a building. Although I would always advise anyone to have an inspection carried out by a qualified surveyor I also thought it would be worth sharing some tips, so that those with limited or indeed no knowledge of buildings may at least be able to identify issues that they could question and bring to the attention of their advisers. This basic knowledge could also be a deciding factor which may lead to a decision not to pursue a particular property and to focus your attention on others.
Externally, I will always look at the condition of the external walls for signs of cracking, distortion (possibly bulging) and also the condition of the materials generally. Cracking and/or distortion can occur for many different reasons and the consequences can sometimes be very serious. It is however worth noting that if cracking or distortion in an external wall is noted that it could be historic and less significant than the damage may suggest. There is a natural reaction by many people to panic when they see cracking in a building, however in many cases the problem can be rectified reasonably quickly and cheaply. If you do identify cracking in a building it is always worth obtaining professional advice to establish an accurate prognosis. Also, look out for signs of 'new' pointing. Pointing refers to the horizontal and vertical mortar joints that 'bond' the masonry units together. If you see a slightly lighter (in colour) or a different colour, area of pointing, particularly if this is in a vertical/stepped position, this would suggest that recent cracking may have occurred and the cracking has been infilled. Again, bring this to the attention of your professional advisor.
External ground levels should also be looked at closely, particularly at the junction of external walls. A damp proof course is installed in external perimeter walls to prevent moisture rising through masonry by capillary action and into a building. Current Building Regulations require the damp proof course to be installed 150mm above external ground levels. The importance of the damp proof course is often not appreciated and you will often see raised flower beds installed abutting external walls, new driveways installed at a higher level that previously and render being applied to walls. All of these have the potential to 'bridge' the damp proof course and provide an easy path for moisture and damp to find its way into a building.
When viewing internally it is important to look beyond the internal decorations and furnishings. Everyone has different tastes and often the conversation after the viewing can focus on 'that hideous room' or 'those awful carpets'! This however is missing the point. No matter what the condition or quality of the decorations and other finishes, most people will usually re-decorate to their own taste anyway. It is important that your mind is focused on looking beyond this, which will allow you to focus on the condition and layout of the building. Try to focus on the potential of a house and this will open your mind up to think about what you can do rather than what you do not want to do. In the whole process of buying a house, decorations and furnishings should be the least of your concerns, given that there are so many other serious problems that could arise.
Internally, you should look closely at the internal wall surfaces for signs of dampness. This will include visible damp patches, peeling or flaking paint or possible peeling wallpaper. Dampness can occur in a building in many ways such as rising damp, penetrating damp and also condensation. In ground floor rooms pay particularly close attention at low level especially on the inside surface of external walls. Any damp identified above a metre and a half above ground level, will not be rising damp and may be a result of leaking plumbing or possible damp penetration from poorly maintained gutters and downpipes. It is not uncommon for condensation mould to be present, especially in kitchens and bathroom. This is due to the activity and subsequent high concentrations of water vapour in these rooms. Condensation could suggest poor ventilation, poor thermal insulation to external walls or possibly inadequate heating, or a combination of these.
If you identify dampness or cracking during your visit then bring these to the attention of your professional advisers. Hopefully the above information will help those who are unfamiliar with buildings to identify some warning signs that would suggest further investigation. A Surveyor will undertake a detailed and comprehensive survey, if instructed, and this will provide you with an explanation of the condition of a building together with the likely cause and recommended remedial works. So if you undertake a viewing and you identify some of the issues discussed above you may decide not to pursue a particular house any further or maybe to seek further professional advice.